Personalized Picture Sets
Please supply a valid email address for the set to be sent to at the time of your purchase.
I will be personally emailing the set outside of the BHE system so
make sure to check ALL email including SPAM/JUNK folders for your set!
Your set will be photographed, edited and emailed within 48 HOURS after I receive your purchase email.
(Each set contains 10 unique photographs in .JPEG format)
$15.00
JUST SOLES
$15.00
JUST TOES
$15.00
TOE POINTING
$15.00
NO POLISH / NAKED TOES
$20.00
PICK YOUR POLISH
(Include your color choice with order)
Worn Socks
Do you want to own a pair of socks worn by me? Buy your fantasy today!
After you place your order you will receive an email confirmation and the item purchased is worn
and mailed directly to you in a DISCREET cushioned mailer envelope.
Your credit card is not finally charged for the amount until I mail the socks to you.
At that time you will receive an email confirming the purchase is final and that your package is on it's way!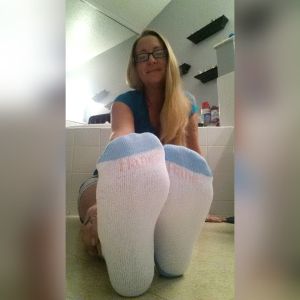 White cotton is standard but you may request a different color or material with order.
Maximum days worn: 7
$30.00
(Price includes shipping and handling)
Painted Foot Print Socks

(Worn once, while I painted a chandelier)

I had no idea when I started my project that this fresh white pair of socks would fall prey to such dark foot prints from every step I took while painting!
Now some lucky foot print addict can DOES own them!




SOLD
Red VS Slippers

(Well Worn)

I started wearing these slippers in November of 2012 and I have steadily worn the life right out of them. They carry a heavy aroma from my toes and soles. With the "holy toes" I was working into them I figured it was time to move on to a new pair and allow some lucky foot perv the opportunity to purchase a pair of my stinky slippers.




SOLD
Gray Roxy Flip Flops

(Well Worn)

Oh... sweet flip flops that just won't quit! I have worn these bad boys outside doing everything from relaxing to mowing the grass. I have worn them inside doing everything from relaxing to cleaning house. Even with all the abuse they just keep going strong... Always patiently waiting for their next adventure on my feet. You can clearly see the toe imprints and some writing missing on the soles. There is a slight smell but flips do not really hold scent well.




SOLD